International Waffle Day
From Giftypedia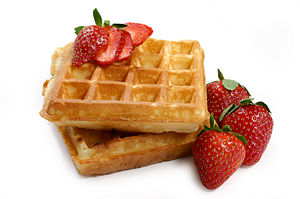 When Celebrated
Always on March 25th
Gifty-ness

About the Holiday
International Waffle Day is not to be confused with National Waffle Day which celebrates the patenting of the waffle iron. International Waffle Day celebrates the actual waffle. The holiday originated in Sweden and coincides with the Feast of the Annunciation and the beginning of Spring where it was customary to celebrate with waffles. Waffles are said to be descended by ancient Greece where they cooked flat cakes between two metal plates.
Waffles can be eaten for breakfast, lunch, dinner, or as a dessert. You can eat them with butter, maple syrup, fruit, whip cream, chocolate, ice cream, peanut butter, powered sugar, chicken, or honey. The word waffle comes from the Dutch word meaning wafer.
Eggo waffles were introduced to the freezer section in 1953 and the Waffle House was founded in 1955.
Gift Guidelines

Waffle iron
Toppings for waffles

Related Holidays
March Info & More Holidays
Birthstone:
Flower:
Zodiac:
Feb 19 - Mar 20



Pisces

Mar 21 - Apr 19



Aries