International Fun at Work Day
From Giftypedia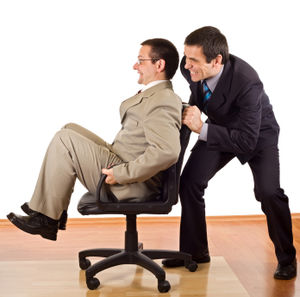 When Celebrated
On April 1st unless it falls on a weekend, then it's the first Thursday in April.
Gifty-ness

About the Holiday
The fact that International Fun at Work Day happens to fall on April Fools Day is no accident. People plan for days, weeks, some even months in advance to see how they can get their co-workers to fall for one of their tricks. This chicanery provides for some most enjoyable fun in the office. Just don't do anything too bad to the boss or your clients, otherwise, you'll be needing to celebrate tomorrow's holiday... Reconciliation Day.
Originally called National Fun at Work Day, this holiday was started in 1996 by Matt Weinstein of Playfair who wanted to start this holiday to revitalize fun in the workplace.
There are references to another National Fun at Work Day being held on the last Friday in January, though, we were not able to locate an origin for that version of the holiday and have found more credible information for the April 1st celebration of this day.
Gift Guidelines

Gag gifts
Office prank
Game that can be played in the office
Office field trip

Related Holidays
April Info & More Holidays
Birthstone:
Flower:
Zodiac:
Mar 21 - Apr 19



Aries

April 20 - May 20



Taurus