How to Make Royal Icing
From Giftypedia
Royal Icing is used to create a shiny glaze for cookies or other desserts. It gives a professional look to items and also hardens quickly.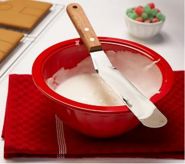 There are several versions of Royal Icing[1]. The classic recipe uses egg whites and is considered tastier than the other versions using meringue powder.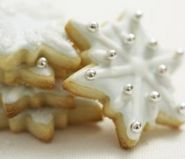 Royal Icing Using Egg Whites
2 large egg whites
2 teaspoons fresh lemon juice
3 cups (330 grams) confectioners (powdered or icing) sugar, sifted

In the bowl of your electric mixer (or with a hand mixer), beat the egg whites with the lemon juice. Add the sifted powdered sugar and beat on low speed until combined and smooth. The icing needs to be used immediately or transferred to an airtight container as royal icing hardens when exposed to air. Cover with plastic wrap when not in use.

Royal Icing Using Meringue Powder
4 cups (440 grams) confectioners' (powdered or icing) sugar
3 tablespoons (30 grams) meringue powder
1/2 teaspoon extract (vanilla, lemon, almond)
1/2 - 3/4 cup (120 - 180 ml) warm water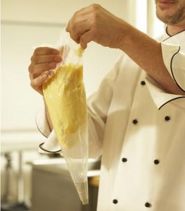 In the bowl of your electric mixer (or with a hand mixer), beat the confectioners' sugar and meringue powder until combined.  Add the water and beat on medium to high speed until very glossy and stiff peaks form (5 to 7 minutes). If necessary, to get the right consistency, add more powdered sugar or water. To cover or 'flood' the entire surface of the cookie with icing, the proper consistency is when you lift the beater, the ribbon of icing that falls back into the bowl remains on the surface of the icing for a few seconds before disappearing.

Powdered Sugar Icing I
This flavorful, smooth, slightly translucent, shiny glaze is great for decorating sugar cookies or drizzling over other desserts.[2]
2 1/2 cups powdered sugar
2 tablespoons water
1 tablespoon butter, softened
1 tablespoon light corn syrup
1/2 teaspoon vanilla or almond extract
Food color, if desired

Combine powdered sugar, water, 1 tablespoon butter, corn syrup and 1/2 teaspoon vanilla in small mixer bowl; mix until powdered sugar is moistened. Beat at medium speed until smooth, adding additional water if necessary, to reach desired glazing consistency. Tint with food color, if desired.
Note: Originally found on the website of Better Homes and Gardens.
[edit]
Related
[edit]
References