Winston Churchill Day
From Giftypedia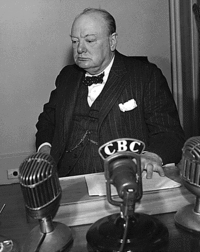 When Celebrated
Always on April 9th
Gifty-ness

About the Holiday
Winston Churchill Day celebrates the day, on April 9, 1963, that Sir Winston Leonard Spencer-Churchill was named an honorary United States citizen. He was the first person to become an honorary citizen of the U.S. (see Senate.gov: Honorary Citizens of the United States) Churchill was half American as his mother, Jennie Jerome, was from Cobble Hill, Brooklyn. He was the Prime Minister of the United Kingdom from 1940 to 1945 (during World War II), and 1951 to 1955. He won the Nobel Prize for Literature in 1953. Churchill died in 1965 at home in London at the age of 90. Below are some famous Winston Churchill quotes:
"A pessimist sees the difficulty in every opportunity; an optimist sees the opportunity in every difficulty."
"My most brilliant achievement was to persuade my wife to marry me."
"Eating my words has never given me indigestion."
"History will be kind to me for I intend to write it."
"Socialism is a philosophy of failure, the creed of ignorance, and the gospel of envy, its inherent virtue is the equal sharing of misery."
Gift Guidelines

The Last Lion: Winston Spencer Churchill, Alone 1932-1940 by William Manchester
Sir Winston Churchill: His Life and His Paintings by David Coombs
Never Give In!: The Best of Winston Churchill's Speeches by Winston S. Churchill

Related Holidays
April Info & More Holidays
Birthstone:
Flower:
Zodiac:
Mar 21 - Apr 19



Aries

April 20 - May 20



Taurus