Tips for Planning a 4th of July Party
From Giftypedia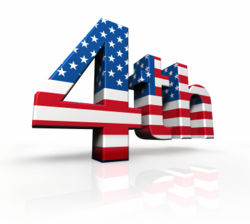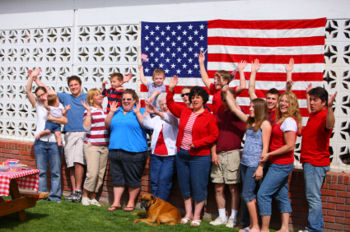 There's nothing more American than having a huge
4th of July celebration
.
Celebrating Independence Day
is typically associated with parades, fireworks, barbecues, picnics and most all good ole' American food. Here's some
tips on planning a 4th of July Party
where everyone is sure to have a "bang up" time.
Invitations


You can create your own or choose from many different themes of pre-made invitations. The invitations should set the mood for your 4th of July party. If you will be having a daytime party you can use flag, red, white and blue themed invitations. If it will be a barbecue, create invitations in the shape of a hamburger with the details of the party on the back. If the celebration will be in the evening including fireworks, then have images of fireworks on the front of your invitations.
Party Ideas
Backyard Barbecue
A Backyard Barbecue on Independence Day that includes the All-American favorites is sure to be a big hit.
Menu items like hamburgers and hotdogs, potato salad, corn on the cob, watermelon and apple pie are not only easy, but will please most any guests. Other grilling favorites include ribs, steaks, or fish. Refreshing drinks like lemonade and ice tea are perfect for a hot July afternoon. Additional deserts include a red, white and blue cake, fresh fruit. For the kids, homemade ice cream with a variety of toppings, or s'mores.
Decorate the tables with red tablecloths and keep the red, white and blue theme with the paper plates, cups, napkins and utensils. For center pieces keep the theme with floral arrangements with red, white and blue flowers. You can also decorate with streamers, confetti, and many items, in a patriotic theme that you can find at your local party store or online.
For entertainment, games like horseshoes, badminton, croquet, or even arrange a baseball game if space is available. You can also play patriotic music like "The Star Spangled Banner", "Yankee Doodle", and "God Bless America".
End the party by attending the local fireworks display. Don't forget to take along some snacks and drinks for your guest to enjoy while watching the show.
Picnic Style
If planning a picnic style 4th of July celebration at a park or the beach make sure to reserve the area well in advance if needed. When choosing a locating consider where the evenings fireworks show will be. If everyone can enjoy the fireworks from the same area, all the better.
For the menu items stick with the basics and make foods that are easy to transport. Make sure to have coolers with plenty of ice to keep foods cold as needed. If you will have grilling options at the location, hamburgers and hot dogs are excellent options. If you won't be grilling, make finger sandwiches, cold cut wraps, sub sandwiches or fried chicken. Fresh vegetables and fruits make great appetizers and are easy to eat while playing games or just relaxing. You can also have a potluck picnic and ask everyone to bring a dish. Plenty of beverages and lots of water, for your guests, is a must for a picnic/beach celebration on a hot July afternoon.
If the area allows and you have electricity, decorate with strings of red, white and blue lights. Decorate the tables with red and white checkered tablecloths, the paper and plastic in coordinated colors, and for center pieces you can use buckets in red, white or blue, full of ice and drinks. Bring plenty of chairs, picnic blankets, extra tables, and umbrellas or some type of shade cover.
For entertainment, many of the games for the backyard barbecue will work. Additionally, playing cards, Frisbee, and volleyball will add to your 4th of July picnic.
Recipes
Old Fashion Lemonade
Red, White and Blue Potato Salad
Easy Strawberry Short Cake

Ingredients:

6 lemons
1 cup sugar
6 cups cold water

Juice the lemons to make 1 cup of juice. In a gallon pitcher combine lemon juice, sugar and cold water. Stir. Adjust the amount of water to taste. Chill and serve over ice.




Ingredients:

1 pound red skin potatoes, white potatoes and purple potatoes
1/3 cup mayonnaise
2 1/2 tablespoons fresh lemon juice
1 tablespoon Dijon mustard
1 1/4 teaspoons celery seeds
1 1/2 tablespoons chopped green onions
Salt and pepper to taste

Scrub clean, but do not peel the potatoes. Bring to a boil, the red skin and white potatoes in one pot and the purple potatoes in another. This is to keep them from coloring the other potatoes. Reduce heat, cover and simmer until fork tender. About 12 to 15 minutes. When done drain and let cool. Cut into chunks.

In large bowl mix together, mayonnaise, lemon juice, mustard, and celery seeds. Add potatoes, green onions, salt and pepper, gently mixing together.

Ingredients:

1 yellow cake mix
2 pints fresh strawberries or 1 package frozen
Cool Whip

Bake cake as directed. After cake has cooled, take the end of a wooden spoon and punch holes about every two inches across cake. If using fresh strawberries, cut in 1/2 and add sugar to taste. Let them sit for about an hour to produce juice. Pour strawberries and juice over cake. Refrigerate overnight. Before serving spread with Cool Whip, then top with a few strawberries.
Related Links