National Donut Day
From Giftypedia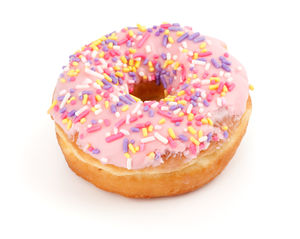 When Celebrated
Always the first Friday of June
Gifty-ness

About the Holiday
National Doughnut Day is a day to enjoy your favorite type of sweet and tasty treat, no matter if you spell it doughnut or donut. So run out to your local donut shop and get you a ring doughnut, filled donut, or doughnut hole.
This holiday was started back in 1938 as a way to raise money for the Chicago Salvation Army, and to aid the needy during the Great Depression. The holiday was also to honor the Salvation Army "Lassies" of World War I, who handed out doughnuts to the men behind the front lines during times of war.
Homer Simpson would so love this holiday! Mmmm... Doughnuts... Is there anything they can't do?
Gift Guidelines

Dozen Doughnuts
Coffee Mug
Donut T-Shirt
Gift Card to Dounut Shop

Related Holidays
June Info & More Holidays
Birthstone:
Flower:
Zodiac:
May 21 - Jun 21



Gemini

Jun 22 - Jul 22



Cancer