Malaysia Gift Giving Customs
From Giftypedia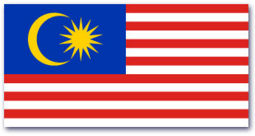 Flag of Malaysia
Capital: Kuala Lumpur
Languages: Bahasa Malaysia (Malay), English, Chinese dialects, and Tamil
Currency: Ringgit (RM), Currency Code (MYR)

Malaysia was formed in 1963 as a Federation of Malaya, Singapore, North Borneo and Sarawak, with Singapore being expelled from the federation in 1965. As a former British colony, it is a member of the Commonwealth of Nations [1].
The Petronas Twin Towers[2] in Kuala Lumpur, completed in 1998, remain the tallest twin buildings in the world, and are listed at number eight overall.
Malaysia is a country of over 27 million, with a mosaic of cultures. The majority of the population are Malays, with a sizable population of ethnic Chinese and Indian communities. Malaysia is a multi-religious society and Islam is the official religion. Muslim-owned stores are closed on Fridays.
Business Gift Etiquette in Malaysia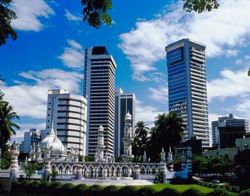 Malaysia is a multi-ethnic society. It is important to adapt your gift giving guidelines to the culture of your business partners.
Malaysian business gifts are not usually exchanged as they may be perceived as a bribe. However, in the event that you are presented with a gift, it is customary to accept it with both hands and open the gift after your Malaysian colleagues have left. Be sure to reciprocate with a gift of equal value.
Recommended business gifts in Malaysia include good quality pens, desk accessories, or regional items representative of your country or city.
Personal Gift Giving Guidelines in Malaysia
Gift giving in Malaysia is usually reserved between friends. You should establish a personal relationship with someone before giving them a modest, inexpensive gift. Gifts for social occasions in Malaysia should include something representative of your home country; a regional specialty or a food that may be considered a delicacy is an appropriate gift. Present the gifts shortly before departing, not when arriving.
Do's
Don'ts

Malays:
Follow Muslim guidelines.
Gifts are generally not opened when received.


Food gifts must be "halal."[3]

Host/hostess gift - alcohol-free perfumes or colognes, pastries or quality chocolates.

Offer gifts with the right hand only or both hands.

Use red or green wrapping paper.

Never give alcohol.

Toy dogs or toy pigs.

Anything made of pigskin.

White wrapping paper - it symbolizes death.


Chinese:
Gifts are generally not opened when received.

Wrapping paper - red, pink, or yellow.

Host/hostess gift - fruit, sweets, or cakes; say it is for the children.

Give gifts in even numbers - odd numbers are unlucky.

Candy and fruit baskets can be sent the next day.

Scissors, knives or other cutting utensils.

Flowers - only given to the sick or used at funerals.

Clocks, handkerchiefs or straw sandals.

Wrapping paper - white, blue, or black.


Indian:
Follow Hindu guidelines.
Gifts are generally not opened when received.

Wrapping paper - red, yellow, green or other bright colors.

Host/hostess gift of flowers or chocolate.

Give gifts of money in odd numbers.


Alcohol - only if the recipient drinks.

Frangipanis flowers - only used at funerals.

Leather products.
Black or white wrapping paper.

Items in multiples of 3.

General Etiquette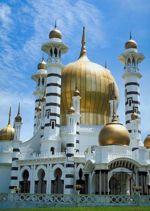 If you will be visiting Malaysia for business or on a vacation, here are some tips to keep in mind:
Selamat Datang! It means "Welcome!" in Malaysia.
Avoid wearing the color yellow. It is reserved for Malaysian royalty.
Tipping
In a crowded club, restaurant or bar, it is not uncommon to tip the waiter to get a better seat or better service for the rest of the night, by tipping the waiter RM5 or RM10.
In Malaysia, a 5% tax is added to bills of hotels and restaurants classified as tourist class, along with a 10% service charge. You can add an additional gratuity if you wish (5% is usually adequate) but it is not absolutely necessary. [4]
Business Etiquette in Malaysia
Schedule business appointments for Monday through Thursday. Many offices and stores are closed by noon on Friday.
The business dress code in Malaysia for the office is lightweight formal clothing. If you see that others are going without a jacket or tie, remove these casually. Business attire for women in Malaysia is knee-length skirts and long-sleeved blouses. Evening functions can be more informal.
Be on time for business meetings but expect your Malay counterparts to be more relaxed about punctuality. Meetings can be lengthy with a great deal small talk. Relationships must be firmly established before business negotiations can begin. [5]
In Malaysian business culture, a handshake between men is normal. However, you should only shake hands with a Malaysian businesswoman if she initiates the gesture. Otherwise, a nod or a single bow is appropriate.
Standard business card etiquette calls for cards to be exchanged during the initial introductions. Cards should be given and received with the right hand with Malays and with both hands with Chinese and other non-Muslim South-East Asians. Business cards should be studied before being put carefully away.
Related Guides
References