Hungary Gift Giving Customs
From Giftypedia


Flag of Hungary

Capital: Budapest

Languages: Hungarian

Currency: Hungarian forint

Religion: Roman Catholic, Protestant

National Holiday: Saint Stephen's Day, August 20

More Hungarian Holidays
Hungary is situated in the heart of Europe, and offers tourist many diverse destinations and a variety of activities. Hungary has many lakes and rivers that are spread throughout the country from the beautiful low mountains in the north-west to the Great Plain in the east. Cultural tourist will find many unique small villages that are rich with history, and for the city-dwellers Hungary's capital offers a vivid culture, intriguing museums, and a booming nightlife. When traveling to a different country it is smart to educate yourself about the culture, and if your trip will include the exchanging of gifts then here are a few tips about gift giving etiquette in Hungary:
Gift Giving Etiquette in Hungary
If you are invited to someone's home while traveling in Hungary, the Hungarian gift giving custom is to bring a host/hostess gift such as chocolates, flowers or liquor from your home country.
When giving a gift of flowers they should be given in odd numbers, but not 13, which is considered an unlucky number. When choosing a gift of flowers, do not give lilies, chrysanthemums or red roses.
When receiving a gift, you should open it immediately and in front of the gift giver.
Business Etiquette in Hungary
Avoid having conversations about politics, religion or other sensitive subjects. Hungarians enjoy talking about music, sports, food, and wine, so educate yourself with these facets of Hungarian culture and it will help you when building business relationships.
Be punctual to all meetings. Hungarians are sticklers for punctuality.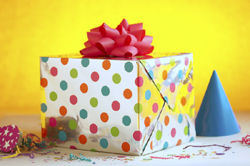 Birthday, Wedding and Holiday Traditions in Hungary
Hungarian Birthday Customs
Hungarians celebrate their birthday but also a "name" day. Typically birthday celebrations in Hungary are with family, but name days are large celebrations and people bring gifts, candy or flowers. Each first name has been assigned to one or more days of the calendar, these days are based on religious traditions, historical events, or the birthday of a famous person.
Woman are typically given flowers as a gift on their name day by friends and co-workers.
Here is a link of some common Hungarian first names and a calendar of Hungarian Name Days Calendar.
Hungarian Weddings
In Hungary for weddings to be legal, couples must have a civil ceremony at a courthouse. Typically couples will also have a church ceremony that follows the civil ceremony, and it is very common that a huge procession of guests will follow the couple from the courthouse to the church.
An Hungarian wedding gift tradition is for bride to give the groom a gift of handkerchiefs, while he gives her a bag of coins.
Easter in Hungary
Easter Sunday is an important religious holiday in Hungary, and many families attend church to celebrate the resurrection of Jesus Christ. Families will also celebrate Easter by dyeing and painting Easter eggs, and on the morning of Easter Sunday children will find small gifts beside their beds. Hungarians will also celebrate with a traditional Easter breakfast of Easter eggs, ham, braided cake bread, horseradish and hot chocolate.
Many Hungarians celebrate Easter Monday by carrying on the tradition of "sprinkling." The tradition in the past would involve young men pouring buckets of water over young women's heads, but today the men will spray perfume or water, ask for a kiss and a red egg.
Related Items
Resources