Freesia
From Giftypedia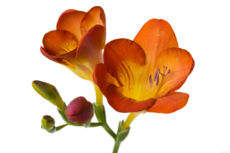 Freesia
The Freesia is considered the floral symbol for the 7th Anniversary of marriage.

Flower Meaning: Trust and Fidelity
About the Flower
The sweet Freesia is a flowering plant native to Africa and was named in honor of a German physician. Freesias are very popular garden plants, mainly due to the flowers' fragrant scent. Common colors of the Freesia's flowers are white, yellow, pink, red and blue.
Fun and Interesting Facts
Due to it's specific and pleasing scent, the Freesia flower is often used in hand creams, shampoos, and candles.
Related Links